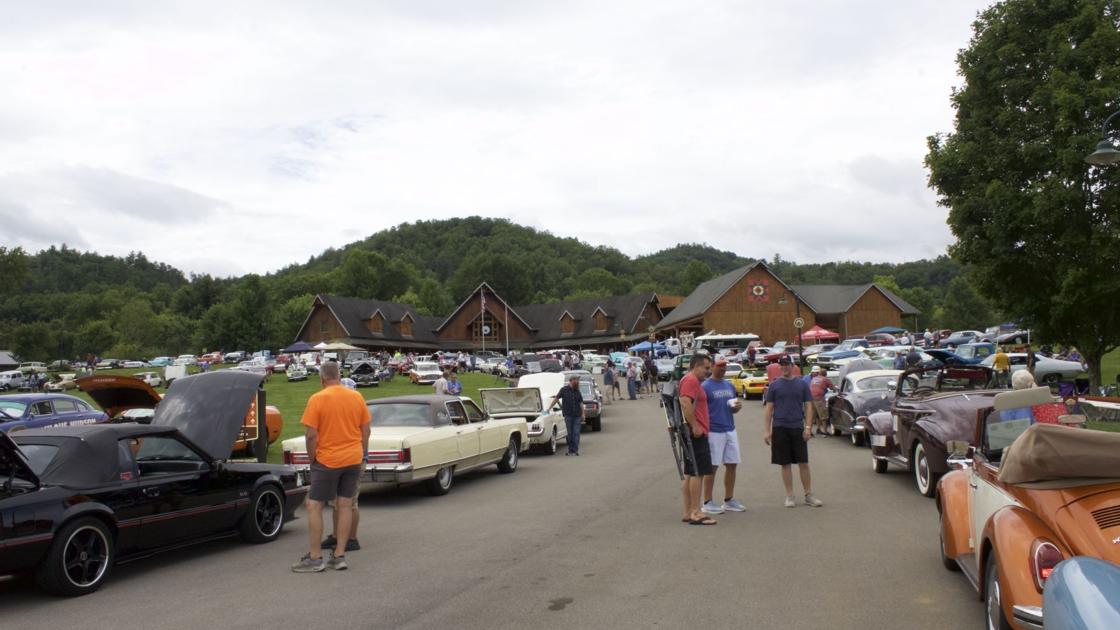 'Autos Through the Ages' offers the opportunity to reflect on the past | New
Few things represent history and nostalgia as clearly as vintage automobiles. This was especially evident on Saturday when the "Autos Through The Ages" classic car show returned to the Great Smoky Mountains Heritage Center in Townsend.
The free event, sponsored by West Chevrolet, Twin City Buick / GMC, The Peaceful Side of the Smokies and the East Tennessee area of ​​the Antique Automobile Club of America, brought together several hundred car enthusiasts at the Heritage Center. More than 110 vintage vehicles of various ages and manufactures lined the driveway, parking lot and entrance to the center.
The show highlighted several cars of limited design and manufacture, including a 1954 Chevy Corvette, a 1955 Bentley, a 1954 Buick Skylark, a 1949 Buick Roadmaster Woodie, a 1927 Model T mail truck, a 1929 Model A fire truck, 1958 Edsel Pacer convertible, 1966 Chrysler Imperial Cabriolet and 1954 Hudson. Several of the models on display are considered extremely rare.
Robert Quillin, president of the East Tennessee region of the Antique Automobile Club of America, said after two previous events at the Heritage Center, he was originally scheduled to perform the show there last year. The pandemic put an end to those plans, forcing the group to postpone its third annual event until this year.
Despite the delay, Quillin was clearly pleased with the turnout. "The weather gods have smiled on us," he said, noting that the bad weather initially forecast for the weekend had not materialized. He proudly pointed out a number of the most prominent classic cars, including his own 1965 Oldsmobile Cutlass, which he originally bought for $ 2,000.
"It was the first car I owned," he said. "I bought it when I was a student at the University of Tennessee, and drove it while I was dating the girl I later married."
A former history professor, Quillin said that in addition to being a kind of time capsule and historical memento, each car also has a specific story. Some, he said, were vehicles driven by heads of state, while others were family heirlooms passed down from generation to generation.
He also noted an occasional irony, such as a vintage Corvair that sported a bumper sticker that read "Vote Nader". Nader, consumer advocate and presidential candidate, is the famous author of "Unsafe at Any Speed: The Designed-In Dangers of the American Automobile," a book that cited evidence that automakers ignored safety risks. , in particular those inherent in the manufacture of the Corvair.
While Quillin's interest in automobiles was evident, he said he had another reason to pursue his passion.
"I joined this club for the cars, but I'm here for the people," he said. "The car guys are good guys." He added that the current mission of the East Tennessee area of ​​the Antique Automobile Club of America – founded in 1956 and part of a larger national chapter that dates back to the 1930s – is currently focused on recruiting young members for the organization.
Most of the cars on display on Saturday were owned by individuals who inherited or purchased their vehicles and then worked on their restoration.
Jim Watson of Maryville, owner of a 1959 Austin-Healey MG TD and former chairman of the Blount British Cars (or "BBC") club chapter, said his fascination with his car began at the age of 16 and that he had spotted an Austin Healey "Bugeye" Sprite – so named for its prominent headlights – on a local road. This led Watson to purchase his first British sports car model at the age of 19.
"I just thought it was the coolest car ever," he said.
While the show mainly showcased original vintage automobiles, at least one car on display served as an example of current technology. The 2016 Tesla Model 3 from Louisville residents Jack and Susan Goodwin reflects a growing trend towards electric cars capable of traveling tens of kilometers on a single battery charge. The couple pointed out that they recently completed their first road trip – an 18-day, 5,277-mile trip west that saved them about $ 300 in fuel costs over what 'they could have spent in a gasoline automobile. . They then shared a map showing the charging stations they had connected to along the way.
Jack Goodwin noted that the very first cars ever made were, in fact, electric and had to be powered up to start. However, once internal combustion engines were developed, manufacturers no longer relied on electricity to power their automobiles. Goodwin said there is currently a resurgence of interest in developing electric vehicles for financial, economic and environmental reasons.
Goodwin and his wife, who are members of the Knoxville Electric Vehicle Association, had another reason to tout electric cars.
"They are fun to drive," he said.
Fun and entertainment seem to be one of the main reasons why so many enthusiasts collect cars in the first place. "We welcome people from all walks of life to join our club," said Quillen. "We have lawyers, doctors, white collar workers, blue collar workers and everyone in between. I have met so many cool people at auto shows, and after meeting them, I often invite them to attend ours.
Maryville resident and auto enthusiast David Dwyer has offered his own opinion on why people have such a special attachment to vintage cars.
"It allows them to remember," he said. "It reminds them of childhood memories and creates a visceral connection with the past. This is not always possible with new cars. These vintage cars demand attention, respect and devotion. It's the difference between art and gumballs.
Email [email protected] to contact longtime freelance writer, critic, critic and blogger Lee Zimmerman.